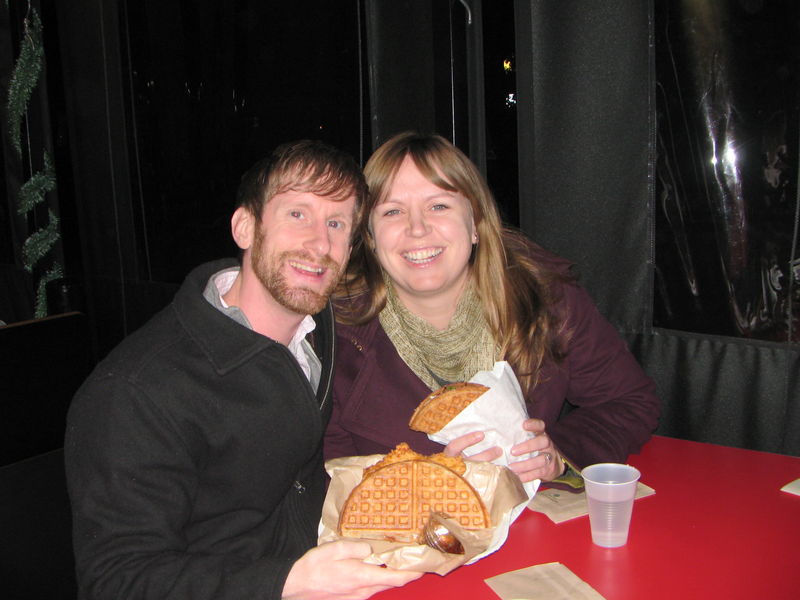 Our New Year's Eve was spent simply - at home resting, organizing, catching up from a week away. We went to
Bruxie
for dinner, a waffle sandwich place we found spur of the moment on
Yelp
. It was dee-licious! Colin got the buttermilk fried chicken waffle sandwich and I got the goat cheese, sundried tomato, and arugula waffle sandwich. Yum. We'll be headed back for sure!
After dinner we got free hot donuts as we stood in line for coffee at Krispy Kreme then went to see
The King's Speech
. A truly great movie in both of our opinions.
New Years Day Colin and I made the meal he'd been dreaming of: black-eyed peas, turnip greens, cornbread, and pork chops. I grew up eating black eyed peas on New Years day, but we didn't have a standard meal to go with them. Colin grew up eating the exact same meal every year, so that's what he craved. He was so excited to get it that he texted his family with a picture and then posted it to
facebook
, which is a very rare thing for him. His parents replied that they'd had the exact same meal a few hours before and his brothers replied that they wished they'd had someone to make it for them. It's fun to make him happy and create traditions together.